Frozen Pangasius fillets are very handy and not expensive. They are easy to store and the boneless fish fillets are not smelly at all.
We often deep fry Pangasius.
Today, I battered them with cornstarch, fried them, and added the Youlin sauce which is a sweet vinegar soy sauce with chopped garlic, onion and ginger. 
Ingredients for Crispy Karaage Pangasius with Youlin Sauce:
Pangasius: 400g
Cornstarch
Green part of green onion (for topping)
Youlin Sauce
Soy sauce: 2 tablespoons
Vinegar: 2 tablespoons
Maple Syrup (or Sugar): 1 tablespoon
Sesame Oil: 1 tablespoon
Red Onion or White part of Green Onion
Ginger: 1 small piece
Garlic: 1-2 cloves
Sambal or Doubanjiang (if you like spicy food): 1 teaspoon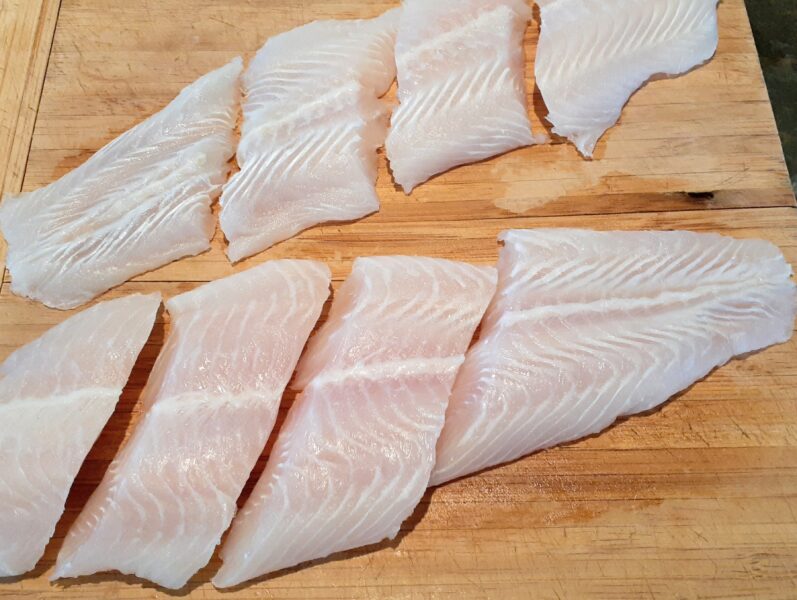 How to make Crispy Karaage Pangasius with Youlin Sauce:
Thaw Pangasius and remove any moisture from the fish with a kitchen towel, cut into pieces that are easy to eat
Thinly sprinkle cornstarch on the fish and deep-fry on a medium heat
Finely chop up the purple onion (or the white part of the green onion) and garlic, needle-slice chop the green part of the green onion and the ginger
Mix all the ingredients of the sauce
Place the fried Pangasius on a plate and put the green onions on the top. Serve with the sauce.