We had a chicken soup stewed with olive and chillies in Mexico that I couldn't forget, so I tried to recreate it.
The original recipe had capers, but unfortunately I didn't have any capers in stock. I omitted them this time.
The olives (and capers if you have them) give the soup its umami and unique flavour.
As for the chillies, habanero would be best. I didn't have any either. I put chillies from my garden in this summer instead.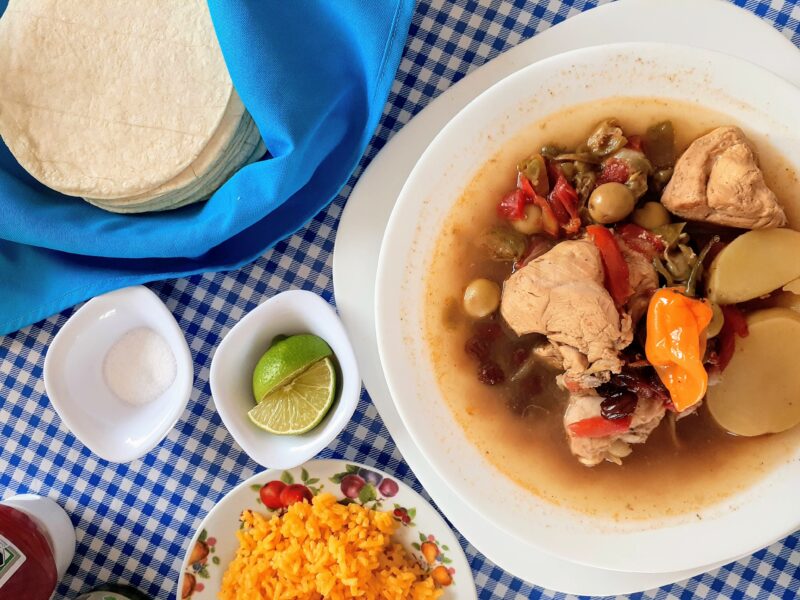 Ingredients for Spicy Chicken Soup with Olives
Chicken thighs (with bones): 500g
Olives: about 3 Tsp
Onions:2 small
Red Sweet Pepper: 2 medium-sized
Carrots: 2
Garlic: 2 to 3 cloves
Bay Leaves: 2
Coriander stalks or Celery: a little
Chillies (if you like): 3 to 5
White Wine: 50ml
Water
Salt and pepper
Lime (if available)
You can also add potatoes, as shown in the picture.
Preparation of Spicy Chicken Soup with Olives
Cut the onions, carrots and sweet pepper into pieces.
Chop the garlic and the coriander stalks into small pieces.
Cut the limes into small pieces.
Cut the chicken into pieces, season with salt and pepper.
How to make Spicy Chicken Soup with Olives
Fry the chicken in a pan to remove any excess fat.
Put the chicken and all the ingredients in a saucepan and bring to a simmer.
When the ingredients have softened, place on a plate and serve with cut lime.